Sponsorship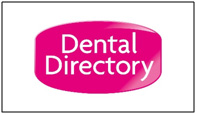 The Dental Directory is a one-stop-shop for all your practice needs, from everyday sundries, facial aesthetic products and training, to state-of-the-art surgery equipment including dental unddits and digital imaging apparatus.
From humble beginnings more than 40 years ago, The Dental Directory has grown to become one of the UK's largest dental dealers with a product range of more than 27,000 different products that cover every aspect of modern dentistry. The Dental Directory is synonymous with fantastic quality, innovation and great customer service.
The Dental Directory offers next day delivery with an industry-leading order cut-off time of 6pm and has highly-trained field-based and internal sales teams on hand to provide vital service and product information whenever you need it.
The Dental Directory takes great pride from its connections and associations throughout the profession and, through its on-going dedication to excellent products, innovation and independent guidance, is committed to helping raise the standards of dental provision across the country.
We provide the Sterling Group with a generous rebate based on the spend of the group as a whole, so the benefit continues to grow along with your commitment to Dental Directory. In turn we will provide all members of the Sterling Group with highly competitive rates on all of the consumables they need.
Dental Directory will also provide a full asset management service on all the equipment in all of the Sterling Group practices, providing you with an easy way to reference all of your equipment and ensure you keep on top of servicing and ensuring your equipment remains in complaint working order.
Through DBG we can also offer you a wide range of in-practice training covering subjects relevant to all dental practices from Infection Control to Patient Complaints, we will also provide places on our centralised courses for Radiography and Safeguarding which once attended will cover the employees full cycle regarding these essential subject areas.
Mitec provide market leading handpiece and small equipment repairs and servicing, with a team of manufacturer trained staff, they can work on all the major brands and provide a 24 hour turnaround on your handpieces to ensure they are returned and back in surgery as soon as possible.
Dental Directory have a number of other businesses that the Sterling Group practices can benefit from through PDS Dental Laboratory in Bradford, Torque Orthodontics for all your ortho products, MedFx for Facial Aesthetics products and Dolby Medical for decontamination equipment and expertise, we really are the perfect partner to provide you with everything you need.