Mr Mike Volk

Trustee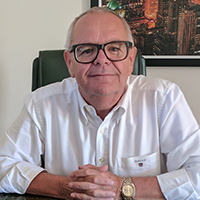 Executive Summary
A Marketing Specialist who for the past 23 years has been responsible for the development of the Sales & marketing strategy of the UK's largest full service dental dealer using vision and ability to drive projects forward with integrity and considerable energy.
Key Strengths
Product and Brand Management
Marketing Strategy Planning and Implementation
Strong analytical and direct sales skills
Appreciation of Market Diversity and medics specific product needs
A strong appreciation of the regulatory environment when developing sales & marketing for Pharmaceutical  products
Market channel communication and the development of Advertising, Direct Marketing and Electronic marketing programmes.
Employment History
The Dental Directory, Sales & Marketing Director 2007 - 2015
A family owned, dental and medical product dealer, licenced by the MHRA to sell PoM and pharmaceutical products
Became market leader with an independently verified market share of 38%  in the dental products sector market in 2015.
Invited to join a five person Board of Directors as Sales & Marketing Director in 2006.
Responsible for the launch of Med-fx, a wholesale Pharmacy in 2008. Within five years Med –fx becomes the largest re-seller of Botox, Dermal Fillers and Cosmeceuticals in the UK.
The Management and Professional Development of 104  reportees
In the 2013/14 financial year, the business achieved total revenues of £126m.
In 2014 the family owned business was sold to the Carlyle Group. A part of the three person sales negotiation team during the sales process
Currently acting as a consultant to the Group
The Dental Directory, Sales & Marketing Manager 1993 – 2007
Initially joining as interim Sales & Marketing manager. The business at this stage had annual revenues of £6.3m. 
Complete responsibility for the development and then implementation of the annual Sales & Marketing strategy
The recruitment of both internal and external sales staff
New Business and Business Development strategy and implementation.
Total responsibility of all above and below the line promotions which includes Advertising, PR, Direct Marketing, e-marketing, Social Media activity and Sales Promotions.
Personal responsibility for the development and retention of the top 5 spending accounts
Responsibility for all public sector tenders resulting in the Company being appointed the sole supplier of dental products for The NHS Supply Chain and NHS Central Services Scotland.
Associated British Liquor Distributions PLC 1988 - 1993
Sales & Marketing Director
Jointly responsible for raising three tranches of Equity Investment under the Business Expansion Scheme raising in total £1.5m
A Niche Brewer and International Beer Brand Owner
Negotiated two major International Licensing Agreements
Negotiated local brewing agreements
The launch of Tooheys and Lone Star lagers and achieving both on and off license trade distribution agreements
Marketing Strategy development and Implementation
Distribution Chain and sales management
Negotiating the sale of both brands to Whitbread Plc in 1992.
Bond International Ltd 1985 - 1988
Senior Product Manager
The world's fourth largest Brewer
Responsible for the UK launch of Swan non-alcoholic Larger and the Castlemaine XXXX Brand in the UK
DM & M Ltd 1979 - 1985
Account Director
America's fourth largest advertising Agency
European Account Director on the Alfa Romeo Automotive Account, responsible for the development of the brand and model communication strategies
Saatchi & Saatchi 1974 - 1979
Account Executive / Supervisor
Working on the Unipart, BL Supercover and Dunlop world beater tyres business